Three prompts in one, oh no!
My first triple prompt for my 500 Drawing Prompts project! I was a little scared in the beginning, but then I was thankful that my background was already set by the first prompt word shop. Drawing shops is something that can be a lot of fun, especially when they sell food.
Now I had to come up with an idea for wire and repeat. Because it's really hard to show a repeated action on one single picture I decided to go with a repeat pattern on the shop front. I think it fits very well into the theme.
For me wire was the most complicated prompt word. It's so boring! After a while of pondering I came up with the telephone idea. In the original sketch I also put in the neighbor house and drew both persons talking to each other, but I didn't like the composition. So I decided to leave out the house on the right and focus on the shop house. Also it adds a bit more interest when you don't see the communication partner of the girl. It leaves room for imagination. Does she talk to her boyfriend? Or is it the neighbor's daughter that she knows since she was a small kid?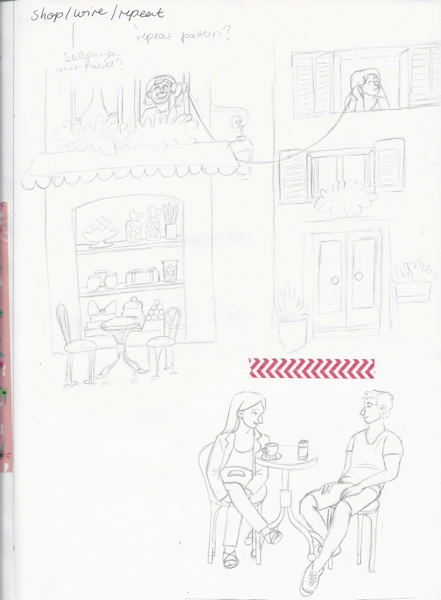 There is something missing
At this point the idea for the sketch was pretty much done, but I thought the picture still misses something. Shops need customers, right? I also wanted to challenge myself and added two additional characters to round up the whole picture. One could argue that they distract the viewer from the actual prompt elements, but I don't think that this has to be a bad thing. The prompts are there to get my creative juices flowing. It's not the goal to keep them in focus.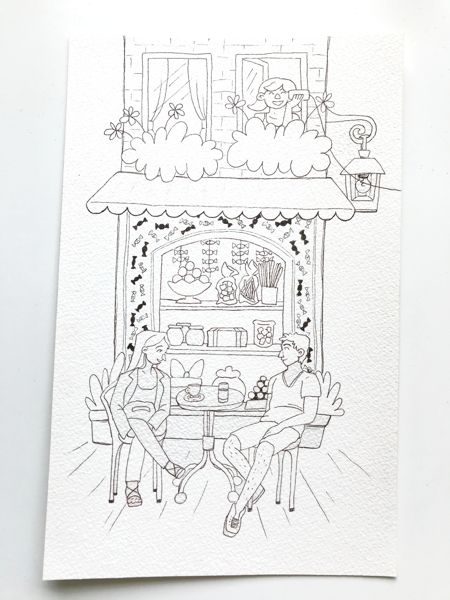 New paper, new workflow
As you can see I used a different workflow and coloring style for this illustration. This has mostly to do with the very textured paper I used. Usually I go over my watercolor illustrations with colored pencils and add more shading and detail as well as the outlines. This time I figured this wouldn't look good on the rough paper. That's why I used a fineliner for the linework and watercolor only for the coloration.
I did a color test on my iPad before coloring the traditional sketch.
Although the colors turned out much darker in the end and I also changed up some things completely.
It really helps to not get overwhelmed while actually painting.
Conclusion
I really pushed myself with this illustration. Usually I tend to draw only one or two characters, which can get quite boring. I also like the composition even though it's a simple front view. And I really like the paper. Normally I'm not satisfied with the coloration before I added depth using my colored pencils, but the paper took the pigments very well! Oh, and in the end I noticed that the lamp is HUGE, haha.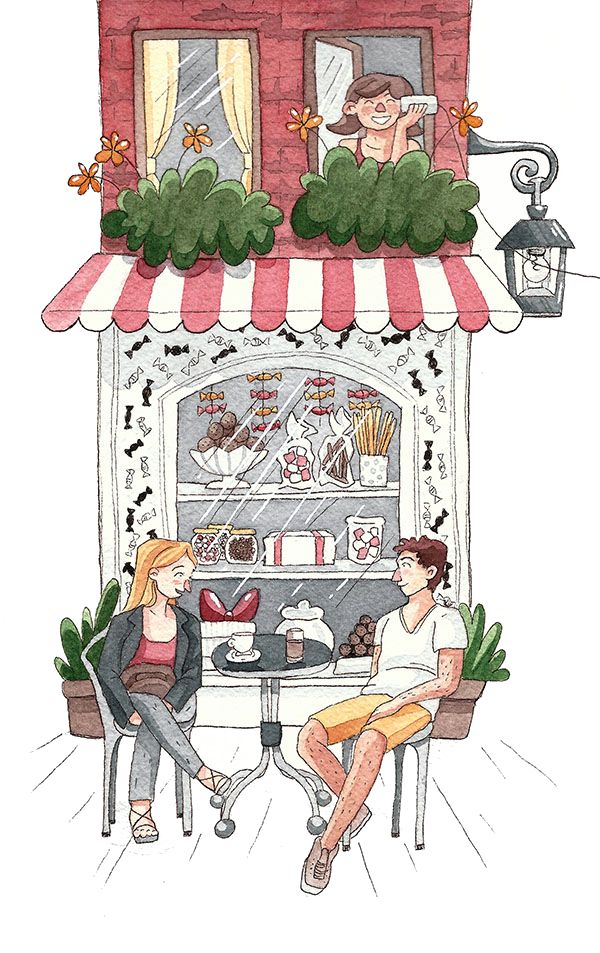 Art supplies used
Arches Cold Pressed paper 300 gsm
Prismacolor Col-Erase Vermillion
White Nights Watercolors
Pigma Micron 01 fineliner (dark brown)
uniball Signo white gel pen
Daler-Rowney E51 Liner size 2
Self-made light box