Hi! It's Laura, come in and get to know me a little better!
I'm a freelance illustrator from Berlin and I love fantastic and surreal elements. My greatest inspiration source is nature. Many of my works include animals and plants. I would describe my style as lively, colorful and suitable to children, but I also create simple and elegant illustrations. What I don't do are hyper-realistic drawings or portraits. Apart from drawing and painting I also carve my own stamps and I create patterns from my illustrations.
Have I made you curious? Do you have an idea or a project you want me to realize? If so, please, send an e-mail to info@papierzucker.de or send me a private message on instagram.com/laura.perlitz.art. If you are interested, you can read about how I work down below.
How I work
Experimenting with different materials and combinining them brings me a lot of joy, too. I especially love working digitally or using alcohol-based markers, colored pencils and watercolor. From time to time I also work with gouache and acrylics. Sometimes I add little pieces of handlettering to my work.
Dry techniques
For my drawings I mostly use markers and colored pencils. Drawings that were made with alcohol-based markers are very even and vibrant. Because there are so many different colors available I can create an ulimited number of shades and tones. Furthermore marker groundings go perfectly with detailed pencil shading. In this way you get very saturated eye-catching illustrations.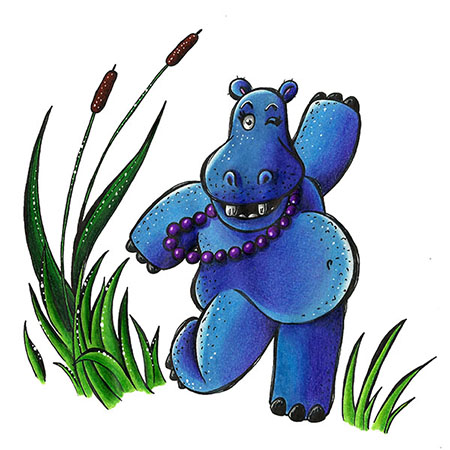 Wet techniques
For my paintings I like to work with watercolors and gouache, but also with acrylics from time to time. With watercolor you can create pretty effects. For example, the wet-in-wet technique allows you to let different colors flow into each other and to create different blends, fringes and shapes. The combination with other materials is possible, too. Sometimes I even use silver metallic acrylics for special effects and a nice finish.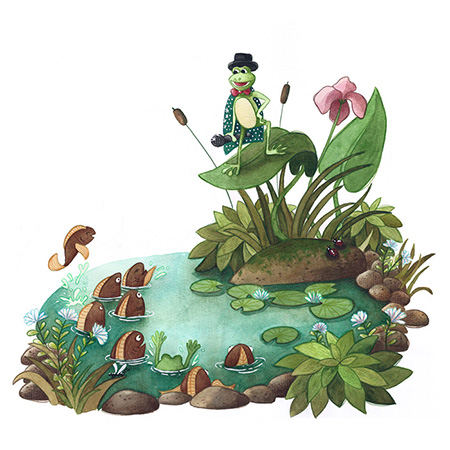 Digital Work
Especially when I need to plan a lot beforehand or when I know I'll have to make a lot of changes and corrections during the process I prefer working digitally. It's much more flexible, not only regarding feedback rounds, but also in the matter of places. Since I work in Procreate on the iPad Pro it's so convenient to just pull it out of your bag and start drawing pretty much everywhere – on the train, in a park or during lunch breaks.
However, even though these are some quite strong advantages over traditional techniques, I'd never completely quit working traditionally. I just love feeling my pen on the paper or watching colors flow into each other (sometimes unpredictably). Also, and this is important, most of my digital painting strategies are derived from traditional drawing techniques. If I've never tried working with gouache, watercolors or colored pencils my digital illustrations would probably look completely different from what they look now.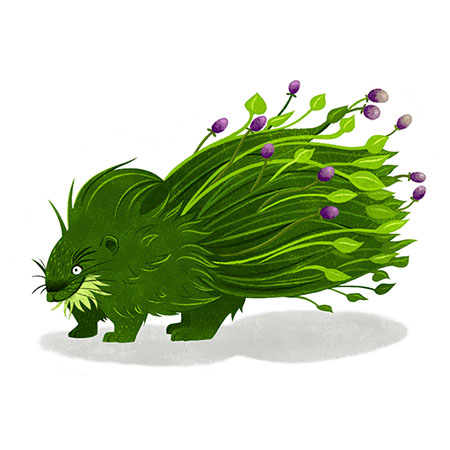 Carving Stamps
A very special gift for friends and family are handcarved stamps. I really like to give them away as a little present. They are so versatile. You can do lettering, images, background stamps and more. For my stamps I use unmounted blue rubber stamps and cutting tools that are also used for linocutting. Often these handmade stamps look a bit wonky, but that's what I love about them. You can see it's handmade and that's why it has charm.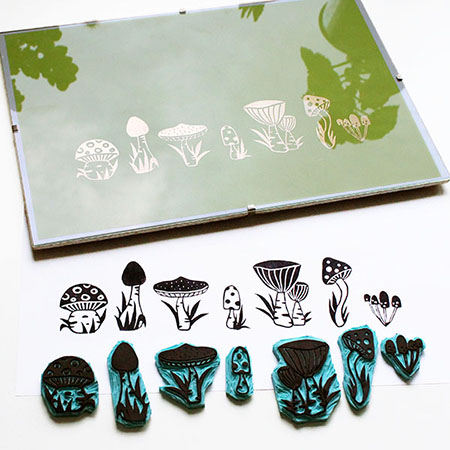 Patterns
Handdrawn images can be turned into beautiful repeating patterns with the aid of image editing softwares. These patterns can be connected with themselfs endlessly what makes them perfect design elements for surfaces. You can print them on laptop or smartphone cases, bedclothes, pillows, clothing, book covers and much else. You can find different products with my patterns on them in my RedBubble Shop.