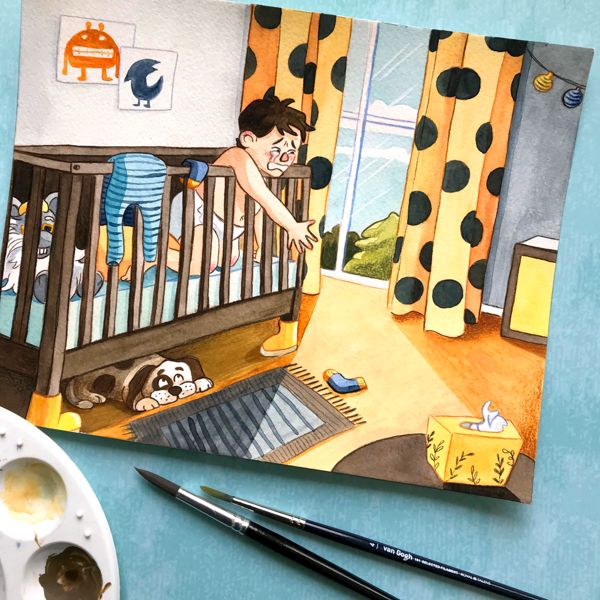 Drawing a nursery is fun
So, the second prompt for my illustration project is a two-word one again. We have crib, which is quite an ambiguous word if my online dictionary tells me correctly. In all my ideas that I sketched out I used the meaning 'baby cot'. I don't exactly know why, but somehow I really enjoy creating nursery backgrounds as you already can see in this picture from 2017:
Illustration from 2017. I really enjoy drawing nurseries. Dots seem to be a thing, too…
Not too sad, please
The second prompt word is mourn, which, in combination with a baby cot, made me come up with pretty sad sketches. All of the drawings on the left imply that a child has died or something like that.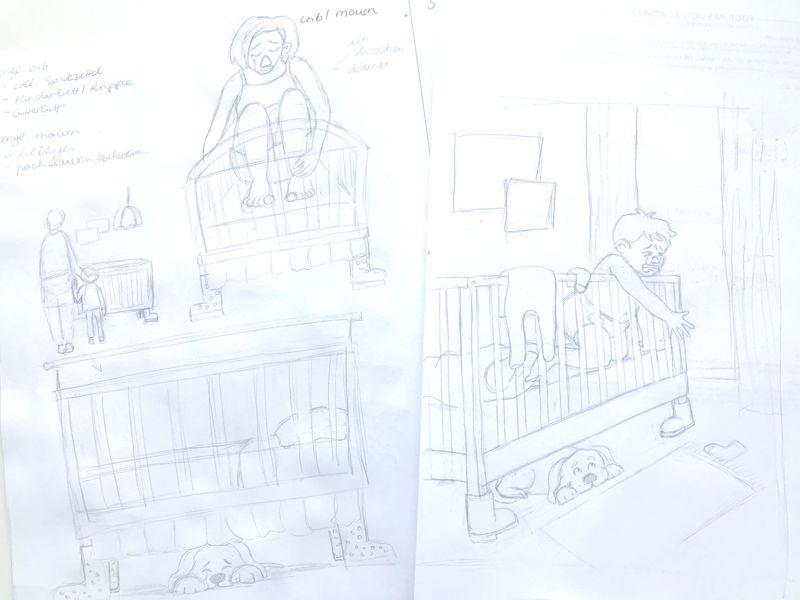 Although I really liked the 'implicity' of the images I wanted to do something more innocent.
The background story
After a night of sleep I had the most obvious idea for ME. I want to tell you a little back story.
When I was about two years old my parents found me naked in my crib a lot of the times. My bedding was rearranged and my clothes were hung up over the baby cot. They wanted to know what's going on and decided to install a camera for the night. As an adult I watched this film several times and it's so funny to see my little self talking to my plushies and being very busy 'cleaning up' the bed and 'doing the laundry'. Suddenly a sock falls off the crib and I desperately try to reach it, my eyes fill with tears and my face looks like something really really bad has happened. After some very long minutes I wipe off my tears and say something like 'doesn't matter' or 'don't care' ('macht ja nüscht') and I already use my Brandenburg/Berlin accent which made me laugh so hard when I heard that the first time. It's just ridiculous how fast we pick up accents while we aren't able to use whole sentences yet.
I remembered that story and I just had to use that for my illustration. I also incorporated the little dog under the bed, because I really liked the idea of the previous sketch.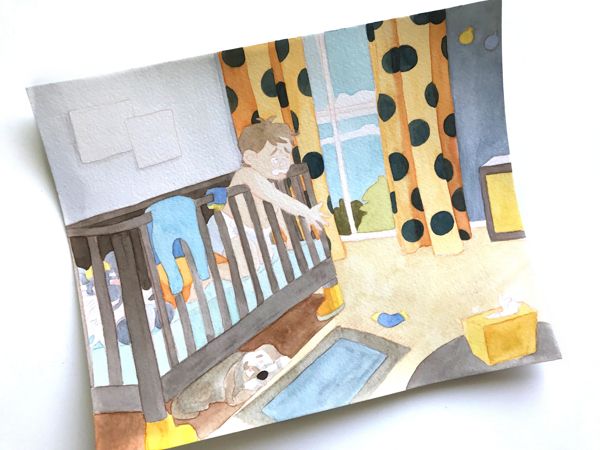 This is a work in progress shot after I put down the first watercolor washes.
I try to cover everything with paint before I go into the details.
I used to paint object after object, but noticed later
that this way I couldn't see the whole picture while painting.
Conclusion
I'm very glad that I found a way to combine the two prompts in a way that's not sad, but actually a bit funny. I think my largest weekness in this piece is the perspective. I'm definitely going to focus on that in my future illustrations and I also want to educate myself more on this matter. Also the shadows are a bit off, I think. I rarely draw images with a clearly defined light source, so usually it's not too obvious when some shadows and highlights are not in the right place. But overall I'm satisfied with the colors (I did a color thumbnail on my iPad before) and also I had a lot of fun creating another nursery again  – a full background, yay!
It's important to play around with the colors before you jump into the actual painting.
I tried different color combos before but they didn't really work together.
Now that I did this color thumbnail on my iPad I'm much happier with the result
even though I changed some things on the go.
Art supplies used
Canson Montval 300 gsm
Prismacolor Col-Erase Vermillion
White Nights Watercolors
Polychromos
Caran D'Ache Gouache (to cover up mistakes)
Posca Pen White