Hi, I briefly want to explain how I prefer working with clients. I want the cooperation to be as smooth and fun as possible (for both sides) and I want everybody to be happy with the results in the end. This is why I rely primarily on communication and feedback.
1. The Briefing
Before I draw the first line, I try to find out in as much detail as possible what the client has in mind. This includes, for example:
Information on the number and scope of the illustration(s).
Is the illustration to be done in black and white, grayscale, or color?
What do you want to see on the image (characters, objects, background, etc.)?
Image examples, if available
Resolution/size of illustrations
Purpose and scope of use
The specifications can also be abstract, such as "I'm writing a blog post on topic X and I need supporting illustrations for it" or "I need 5 different labels for my jam factory" (instead of "I want a label with a flower tendril as a frame and a strawberry with a bow"). Based on this, I can then work out concepts and ideas myself. However, the more concrete the specifications are, the easier it will be for me to estimate time and effort and to deliver the best result for you.
2. Initial Sketches
When I have a good idea of what the client wants, I create the first sketches. These are rough scribbles without color. The focus here is about the content and composition. The client tells me their favorite and has the opportunity to make suggestions for changes.
The following sketches were created for the design of a wedding card. The specifications were that there should be a wormwood plant on it and that a cozy "country house vibe" comes across.
3. Cleaning Up / Linework
Once the customer has decided on a sketch, I create the cleaned up linework from it. This goes back to the client for feedback (optional – for less detailed illustrations I can also go directly to the next step). Minor suggestions for changes can be made.
Here is an example of a digital linework (this can also be analog, depending on what is required). Ideally, no content changes should be made after this step.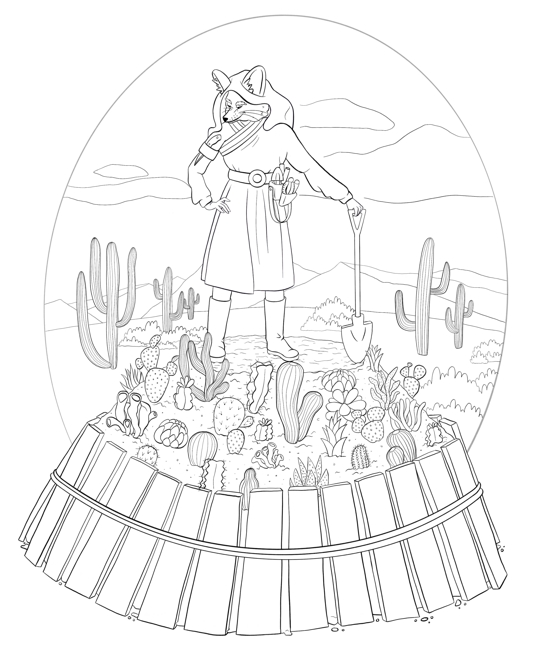 4. Color Tests
Once the final artwork is complete, I create several color tests by roughly filling the areas with color to see how they work together and how a certain focus or mood can be created. I send the color tests to the client again and they can decide on a variant or make further suggestions.
5. The Final Illustration
Once the color scheme is set, I color the illustration and send it to the client for final approval.
Your Roll As A Client
This way of working allows me to be efficient and save time. This is not only relevant for me, but of course for you as a client as well. Since the steps build on each other, you should take the time for each feedback loop to consider exactly what you want and what you like or dislike. This way I can deliver a good result for you without having to go through endless sketches and adjustment loops.
The may sound complicated now, but believe me, this workflow saves us both a lot of time and frustration 🙂
What you should also be aware of is that I can only deliver the requested illustrations on time if you also give me feedback in a timely manner.
You would like to work with me and commission one or multiple illustrations?