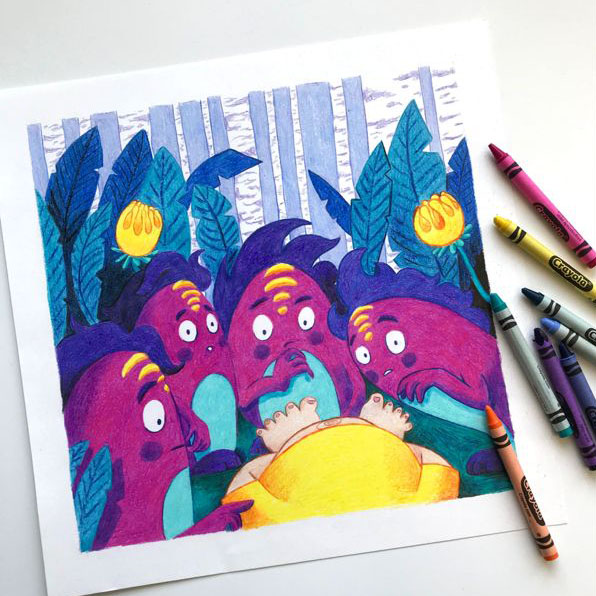 My Inner Child
I utilized this prompt to let out my inner child again. I bought a big pack of crayons and swooped up a big piece of thick, smooth paper. I wanted to use bright colors and simple shapes. As always, I created sketches in the drawing prompt book that I made specifically for this drawing project.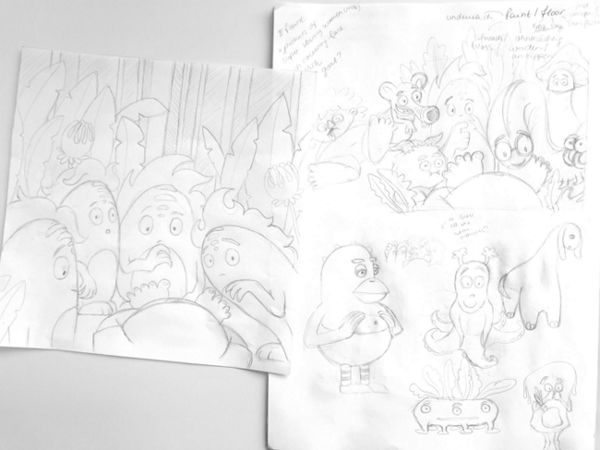 Á la Gulliver
What made this prompt difficult was that both prompt words worked so well together. Someone fainting will very likely flop down to the ground (or floor) as well, right? Unfortunately, I couldn't come up with another interpretation. That's why I thought I'd have to add something else that's interesting. The only goal of this project was to create interesting illustrations in the end.
At first, I designed some different creatures curiously staring at the person on the floor. I had a lot of fun during this process, however, a background story was missing here. I guess I had the stories about Gulliver's Travels in mind. In the first book, Gulliver awakes surrounded by many Lilliputians. I wanted to create a similar situation. My character becomes conscious in a strange world populated by a weird (and cuddly) species. I chose my favourite design from the first sketches and drew more of them.
Interim Stages
I scanned the finished sketch and cut it in the middle to be able to print an enlarged version on two separate sheets of A4 paper. To transfer it onto the bigger A3 paper, I taped them together. For the tracing process, I used the lightbox that my boyfriend built for me. He also likes to make things, but he prefers to use electronic components SMILEY
Before I was ready to grab my crayons, I quickly opened the sketch in Procreate and tested some colors. Because I planned to use very bright colors, I wanted to prevent them from clashing with each other. In the past, I never really liked the color pink, but in the meantime I like to use it because it always pops out. The background was supposed to look a bit strange, just like the creatures that live in that place. That's why I chose blue-ish colors instead of greens and browns.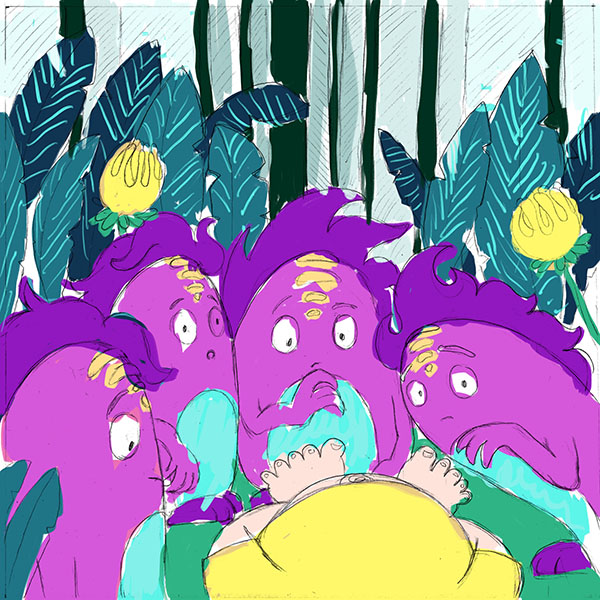 Let's Have Some Fun
Everything was prepared and I was ready to start. I was quite excited because I haven't used crayons since my childhood. Would the result satisfy me? I tried  about this and just to enjoy the process.
It was really hard to create even surfaces with crayons. However, it is the texture that gives  charm to this illustration.I used colored pencils on top to smoothen the color a bit.
Conclusion
I had a lot of fun during the whole process. The only thing that was really annoying was the abrasion of the crayons. You have to sharpen them all the time and it creates a huge mess. You have to clean up your table and your paper constantly to get rid of the dust and to prevent it from sticking to the paper.
I'm sure I will be drawing with crayons again because I really love the texture, but it will definitely not become my favourite technique. I already used them in my sketchbook as well. They are actually very suitable for that because you are able to quickly color bigger areas and the colors are very bright.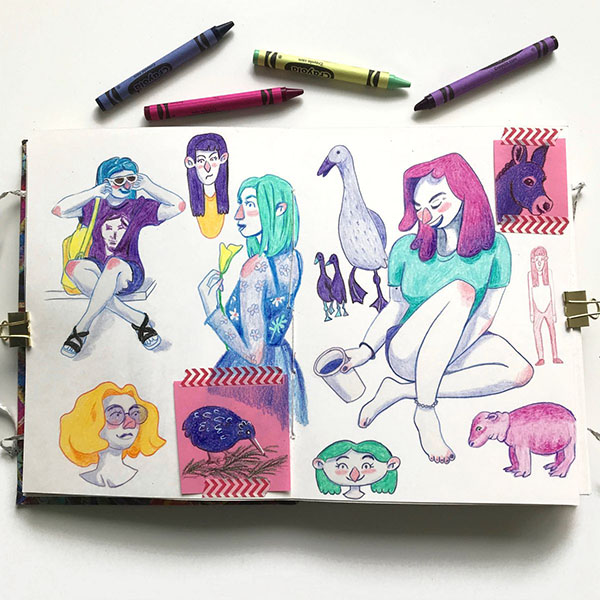 Art Supplies used
Prismacolor Col-Erase Carmine Red
Crayons
Polychromos
Hahnemühle Nostalgie Paper, 190g/m² A3